October 15, 2009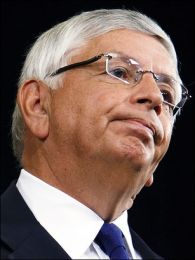 What does NBA commissioner David Stern have to do with Greek basketball, an Ohio court, the U.S. House of Representatives and Michael Jackson? Everything, if player agents Tom McLaughlin and Gary Ebert and Rep. Peter King (R.-N.Y.) have anything to say about it.
As noted here, Olympiacos allegedly owes McLaughin and former Reds player Chris Morris some $1.5 million in total when the latter was unceremoniously released from the team back in 1999.
Yesterday, the plot, which has involved warrants for property seizure, alleged death threats and, in the opinion of folks on this side of the Atlantic, racism and skewed journalism, thickened when King went straight to the top on behalf of Morris and all other U.S. players in Europe – no, not to Barack Obama, silly; to Commissioner Stern, of course.
The Sports Illustrated website described King's letter to Stern as "essentially suggest[ing] that the NBA is culpable through its association with Olympiakos in the recent exhibition games."
Wrote Morris: "I would like to know specifically what the NBA is doing to ensure the fair treatment of American players overseas and why international teams that have unpaid judgments are allowed to participate in goodwill tours here in the United States? I appreciate your attention to this matter and look forward to your response."
And demonstrating all the political savvy and sensitivity last displayed when asked for a comment after Michael Jackson's passing, McLaughlin noted to Sports Illustrated that "Life being what it is, obviously an African-American player in Europe has to be subject to intimidation – it's just a reality."
Certainly the African-American community is happy to have a King in its corner, particularly one who called the late King of Pop "a pervert. He was a child molester. He was a pedophile. And to be giving this much coverage to him, day in and day out, what does it say about us as a country?"
Meanwhile, Ebert, whom you may recall as the dude who reported a mysterious telephone-delivered death threat to Shreveport, Louisiana, authorities earlier in the week, has unleashed his own threat: Ebert claims he will "seize upcoming bank transfers to Olympiakos from the Euroleague."
And now all parties (well, okay, maybe not the Angelopoulos Brothers) await Stern's word. Who else can't wait for that one?
Powered by

Sidelines
This post was published on October 15, 2009