January 27, 2013
After watching Žalgiris Kaunas stumble through heartbreakers and possible backbreakers in the Euroleague Top 16 round, BallinEurope's agent in Lithuania, Y., couldn't help but confirm his suspicions about the Greens' performances in crunch time. Y. probably wasn't, but you may be surprised at the secret culture of losing within the Lithuanian power…
It's almost unreal, as though the Gods of Basketball had banished one green-and-white soul from Lithuania with no prospect of return, a club that should be grouped with FC Barcelona, Olympiacos Piraeus, CSKA Moscow and other teams who have a long history, produce amazing talents for national teams, lead their respective national basketball, and simply win.
Yet for some reason, BC Žalgiris seems destined to lose.
An excellent coach + The biggest budget in years + A classy roster with splendid chemistry + Top supporting crowds — This appeared to be the perfect formula for Žalgiris' 2012-13 Euroleague campaign. But it's been just enough to fall just short.
After an impressive run in the EL regular season resulting in an 8-2, first place finish atop Group C, Žalgiris began the Top 16 in the now typical manner. With four losses in five games, including three road thrillers against Panathinaikos Athens, Real Madrid and Anadolu Efes Istanbul, could have just broken the hearts of victory-famished fans of Lithuania's basketball pride from Kaunas.
Whether it's Oliver Lafayette, Marko Popovič or Darjuš Lavrinovič, whether it's an open mid-range jumper, three-pointer or even a layup, the spell remains unbroken, as Žalgiris fell in Istanbul 56-52 this week. This could will have finally broken the back of the team — If it does, it will be no surprise to anyone following the Lithuanian champions for several years.
[youtube http://www.youtube.com/watch?v=h1HHToLM_8w&w=525&h=295]
So much more is at stake than this lone season … Every year the distant memory of 1998-99 is brought up, but the dream is never relived. Perhaps because it is literally taken as a dream now.
Joan Plaza was shocked to hear players' comments that Žalgiris "cannot be competitive against Olympiakos, CSKA or other great clubs." The attempts by the Spaniard to change this mentality has been successful to some extent, but players still seem to lack faith in themselves at key stages of the season, as the team's Top 16 start illustrates.
Over the years, Žalgiris has developed a losing culture. It has not won a Top 16 road game since 2003-04. Its record in Top 16 since inception of the ULEB Euroleague is 8-39.
But the lack of faith can perhaps best be measured by results of close games.
Since 1993-94, when the modern-day Žalgiris started competing in European tournaments, its record in all games decided by four points or less is 25-38. Interestingly, when pressure is raised, the Greens are much worse: In Top 16 or playoff stages, these numbers drop to 3-18. In other words, during the regular season, Žalgiris is 22-20 (a .523 winning percentage) in close games, and a dismal .125 thereafter — and two of those three victories came in that legendary 1998-99 season.
In stark comparison, over the same period, Panathinaikos won 24 games out of 38 close games in Euroleague playoff stages.
But it has not been this way forever. Back in the 1980s, when Kaunas had its first experience on the European stage, its playoff record in those four-point games stands at a neat 6-6 through 1990. One might simply wonder what happened to the following generation of Lithuania players. Mental weakness, lack of leadership, bad psychology, mentality – you name it – has clearly impeded Žalgiris' chances to become a European basketball stronghold.
The only hope, the single bright photon of light, is that if any team to overturn the spell, it is this season's side from Kaunas. With nine games to go in the Euroleague Top 16, Žalgiris needs to regroup and show full dedication to perseverance and grow that winning mentality.
It won't be easy. But with Plaza's guidance, Žalgiris still has a chance to find the way back to basketball heaven.
And now, the album.
Years of history are against Joan Plaza…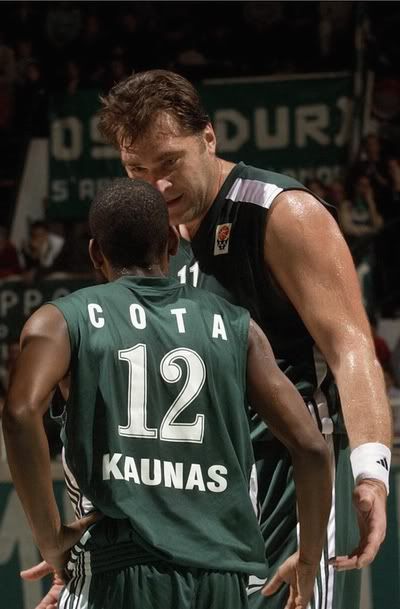 2003-04, one of those "should have been" seasons, ended with two missed three throws in the clutch…
Although Žalgiris won the Saporta Cup in 1997/98, they still went 1-3 in games decided by four points or less…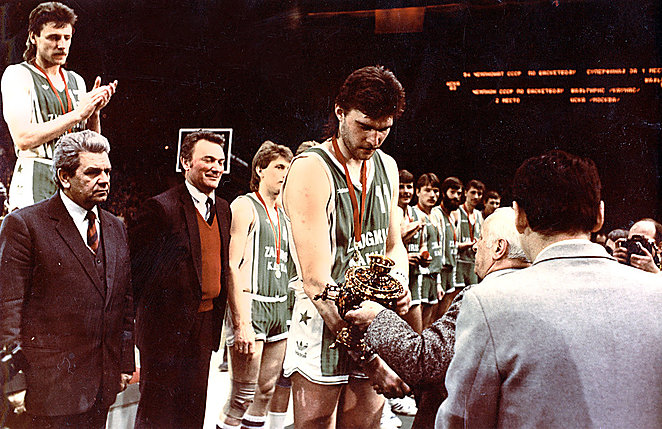 The 80s were brighter, thanks to best player in his generation…
And Žalgiris' last game-winning buzzer-beating win was in 2003-04, as Eduardo Cota puts it in:
[youtube http://www.youtube.com/watch?v=PV46UUaJ7No&w=525&h=393]
Powered by

Sidelines
This post was published on January 27, 2013