August 8, 2009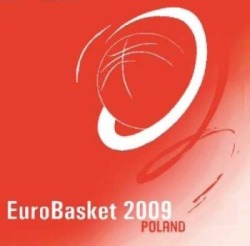 Games two in both the EuroBasket Additional Qualifying Round and the EuroBasket Relegation Round tip off tonight; and though the bookmakers (in this case, our sponsors
BetonBet.com and SportingBet.com) reckon on a lot of decisive wins, Ball in Europe senses an upset or two on the horizon…

In the early AQR game, suddenly scary Bosnia and Herzegovina is a short 2/11 favorite over Belgium, who's sitting at 7/2 over at Sporting Bet. Team Belgium hasn't placed in the EuroBasket final tournament since 1993; perhaps the best the D.J. Mbenga-led Belgians might hope for is to cover the spread with a plus-8.5 handicap. But i wouldn't bet on it.
Then there's the biggest potential mismatch of the entire tournament, with Finland attempting to keep pace with the hotting-up Team France starting at 20.15 BST. Figure they manage it until about, say, 20.18 BST. The odds on France to win this one, already long two days ago after the stirring win against Italy, have plummeted to 1/50 at Sporting Bet. (For a few extra Eurocents, try
BetonBet.com, where Les Bleus are at "just" 1/33.)
The terrible, terrible news for the competition is, of course, that Tony Parker won't be needed in this game and probably not even for the remainder of the round-robin bit of the Additional Qualifying Round, thereby giving the Face of French Basketball that much more leisure time with which to recover from his injuries.
In the relegation round, Ukraine – certainly desperate to prove themselves better than Team Hungary's 24-point beatdog of Wednesday night – faces off against underdog Estonia. While Estonia sits at 17/10 odds with BetonBet and SportingBet, Sporting Bet is offering slightly better odds on a Ukraine win, at 4/9 versus 2/5.
Ukrainian basketball generally seems to be on a downswing in the international game. While this team managed to qualify for the EuroBasket final round in 1997, 2001, 2003 and 2005, 2009's young squad is now in danger of being bounced into relegation. FIBA's rankings have Ukraine now placed a lowly 40th in the rankings, just ahead of Syria (!) and below recent upstarts Kazakhstan and Bosnia & Herzegovina.
The Team Ukraine that played Wednesday night looked disorganized, lifeless, inexperienced and generally sloppy – pretty much like the youngest team in this tournament, which is what they are. Take Estonia plus the 5.5 points Bet on Bet is giving 'em.
Finally, there's Hungary vs. Czech Republic, perhaps the most intriguing matchup of the night. The Czechs return 11 players, from Jiri Welsch and Lubos Barton on down, from the EuroBasket 2007 squad that finished in the sweet 16. Additionally, they've merely augmented the roster with a guy named Jan Vesely of Partizan Belgrade. Not bad; you're stoked if you're a Czech Republic fan and covering 17/40 at
BetonBet.com.
However, Team Hungary's demolishment of Ukraine, coupled with the overtime loss to Team France in a Paris friendly, has got observers' attention. The trio of István Németh, Marton Fodor and Péter Lóránt was an absolutely deadly combination in all phases of the game. Here's to thinking the 7/4 Magyars could surprise even in the Czech Republic, and Team Hungary should definitely cover with a 5.5-point handicap.
SportingBet.com and BetonBet.com are offering more lines, odds and handicap betting on these games. Click on either logo or banner at right for more information. Good luck, all!
Powered by

Sidelines
This post was published on August 8, 2009