November 17, 2011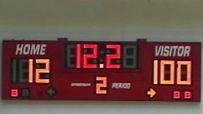 Yesterday, I was looking over the scores nationwide from the England Basketball National League Under-14s, as a coach of a U14 team myself, I find it useful to plan for the future and see what how my potential playoff matchups are doing in their respective divisions. I Tweeted "Wow an Under 14 team won 133 – 8 this weekend… 1st quarter score 51 – 2… ridiculous.. How does that help development in any way!!" Os instantly came back and asked me for a writeup. So here it is…
Let's start with some results from earlier in the season.
October 15th, 2011: Team A 152, Team B 8.
Scoring by quarter:
Home 33 – 38 – 38 – 42
Away 2 – 2 – 4 – 0
October 15th, 2011: Team C 144, Team D 4
Scoring by quarter:
Home 45 – 34 – 33 – 32
Away 2 – 0 – 0 – 2
November 13th 2011: Team E 133, Team F 8
Scoring by quarter:
Home 51 – 26 – 26 – 30
Away 2 – 0 – 0 – 6
As they say, team names have been changed so as to protect the innocent. If you wish to see the true identities of the monogrammed squads, visit the England Basketball official website.
You will see a theme in those above scores: A total of 429 points for the victors, compared with 20 for the losers for a difference of 409 points cumulative or 136.3 points per game. In a country where basketball is not exactly the most popular sport, do association members really think that it will help to annihilate the opposing team, possibly forcing those players to think to themselves "maybe basketball isn't for me" before giving up on the sport altogether?
And what does the winning team gain? A lack of an offence with a game plan simply relying on fast break layup after fast break layup … was any defence played in any way, shape or form? I understand that holding an opposing team to zero points in a quarter is a good goal to set for your team, but at this level it is unnecessary; 143 points in a 40-minute game is 71 baskets (not including three-pointers and free throws): That's 1.8 baskets per minute, which can't possibly come from playing help defence and not gambling on steals.
After the 144-4 win on October 15, Sam Neter of Hoops Fix tweeted "An U14 National League game yesterday resulted in a 144-4 scoreline…what a joke. Clearly of no benefit to either team." He went on to respond to a follower reply in adding "…there are results like that. What I'm saying is, for our players to get better, they need to actually be able to compete" and "I'm saying there shouldn't be a situation where there is such a disparity in the standard of players. NEITHER team's players are getting better playing a game like that."
I understand where Sam is coming from on this one and in my personal opinion no U14 game should finish with a score line like the above. However, I want to hear your views: Can you take many positives from a game like this? What do you think of this scoreline? Have you ever been in a situation like this? Let us know in the comments section.
Sam Chadwick is the co-head coach of the Solent Kestrels U14 basketball team, along with dividing the remainder of his time among an assistant quantity surveyor job, university studies and sportswriting. Chadwick is now a contributor at BBLfans.com, and you can follow him on Twitter at @chadwick9.
Powered by

Sidelines
This post was published on November 17, 2011