June 13, 2011
Huge congratulations go out from BallinEurope.com to the Dallas Mavericks for the team's 105-95 win over the superstar-studded Miami Heat in game six of the NBA Championship. Excepting those in the Miami metropolitan area, the basketball world is collectively rejoicing in playoff MVP Dirk Nowitzki and his Mavericks' first-ever title, earned with the defeat of "The Three Amigos" and the Heat last night.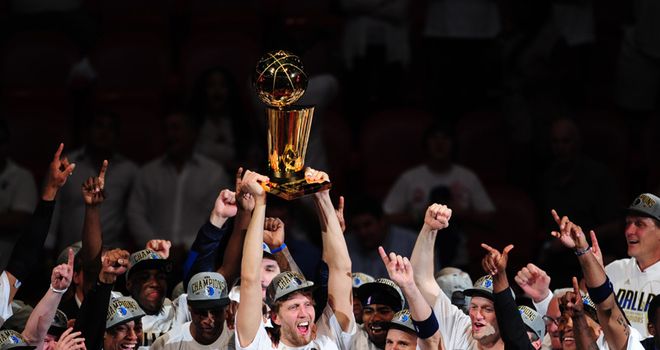 The Mavs become just the ninth NBA franchise to win the big league's title since 1980, the year the team entered the league.
Truly, Dirk is the toast of Germany (not to mention Cleveland) today, earning another accolade for his Hall of Fame plaque in becoming the first citizen of his country to bag an NBA championship ring.
In Nowitzki's hometown of Würzburg, a "few hundred" fans watched the match in the wee hours of the morning. Dirk's father Jörg commented that the victory "is something very special for Dirk because he is finally recognized in America as a [great]."
The Kölner Stadt-Anzeiger proclaimed the Mavs' victory "The quiet triumph" ("Der leise Triumphator") and recognized Nowitzki as "join[ing] the ranks of Germany's biggest sports icons."
Perhaps the big man might not need quite so much media attention, however: Die Bild noted in a headline that, overcome with emotion after the game, "Nowitzki cries in shower."
For now, though, let's just enjoy another look at the game highlights below and rest assured in the notion that sometimes, in sports at least, there is justice.
Powered by

Sidelines
This post was published on June 13, 2011