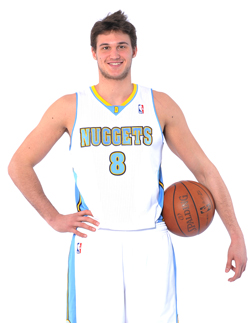 And speaking of video clips…
Though the New York Knicks may never regret finally acquiring Carmelo Anthony, BallinEurope would like to see Danilo Gallinari succeed enough outside of the Big Apple to have 'Bocker backers muttering just a bit in their beers about that bit of the big trade in a coupla years.
Here's the NBA play of the night last night as far as BiE's concerned (top play doubtlessly goes to Terrell McIntyre's dagger for Unicaja Malaga against Real Madrid): Observe below the break as Gallinari schools the "king" himself, LeBron James, on a wicked crossover to drive to the hole for an easy two for the Denver Nuggets. Avanti, Danilo!
Powered by

Sidelines