April 11, 2010
In tribute to that great international pastime known as "NBA mock drafting," BallinEurope's man in the U.K., Sam Chadwick, periodically takes a look at some of Europe's prospective high draft picks. Today's profile features Serbia's Miroslav Raduljica, a 22-year-old center who figures to hear his name on draft day early on in the second round.
There may or may not be a caveat on drafting Raduljica: Draft Express, in a live meeting with FMP Zeleznik head coach Vlado Djurovic, had Djurovic stating that "Miroslav Raduljica is not interested in playing in the NBA. He will go to a big team in Europe." Since Serbian powerhouse Partizan Belgrade apparently had some sort of interest/negotiation with Raduljica later in February, the Black-and-Whites might be considered the favorites to snag the big man.
Vital stats
Position: Centre
Height: 7'0"/2.13m
Weight: 230 lbs/104kg
Date of birth: 01/05/1988
Current club: KK FMP Zeleznik
Strengths: Most scouts currently rank Miroslav as the most underrated prospect in Europe, and he's using this current season as somewhat of a coming-out party. His main strength is his footwork, which is very good for a big man with the use of pivots, drop steps and generally more moves than some current NBA big men; Raduljica can excel in this part of the court, using his moves to get good shots to hit around 57% of his field goals. He has the ability and knowledge to use fakes both in shooting and passing and can find the open man due to his height.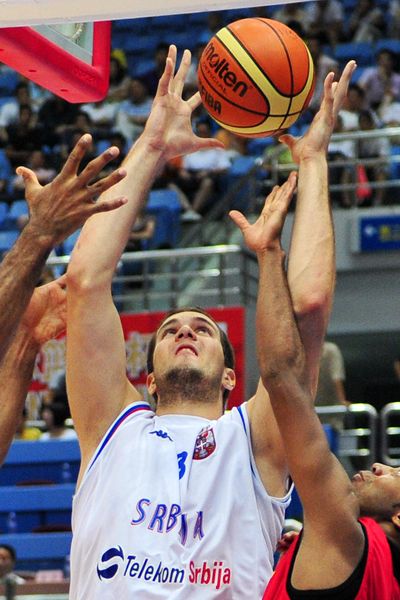 Weaknesses: Raduljica is like many other European players in the fact that he is a lot smaller compared to the bigs in NCAA and NBA ball. In the NBA, Raduljica would need to fight for his position in the post; fortunately, his big hands and long wingspan means the ball can be passed to these big targets and with footwork he can get by bigger, less agile opposition. If, however, Raduljica can gain some weight over the rest of this season and in the off-season, he may move up in some draft boards.
Mock draft forecasts: Currently, Raduljica is ranked as going anywhere from first in the second round (No. 31 overall) to 44th overall, but there is also the chance that Raduljica may skip this year's draft and enter next year; Draft Express has him in the former spot and going to the New Jersey Nets while NBAdraft.net has Miroslav going to the Minnesota Timberwolves.
I feel that neither of these teams will be a good fit for this developing young centre: Minnesota has big bodies in Al Jefferson and Kevin Love; while developing their other young centres/power forwards, they don't need another. Additionally, if the Timberwolves end up drafting at no. 3, they may be looking at Donatas Motiejunas anyway, with John Wall and Evan Turner both gone.
New Jersey also would be a bad fit, as they have a centre to build a team around in Brooke Lopez. I agree that sometimes Lopez needs some help, but the guy is currently the second-best player on the Nets franchise and is one of the building blocks for this young team.
My analysis: Of these two teams, I would rather see Raduljica playing for New Jersey as a key backup; however, they really do not need him and would be better off picking a player to fill one of their more drastic needs.
Other choices: The Golden State Warriors are short and need some height, and Raduljica is relatively quick for a big but also has a long wing span to make him an offensive force for the run-and-gun system currently employed there. Again, the long wing span would also help with rebounding both offensively and defensively as well as putbacks, which, based on the number of attempts the Golden State Warriors take, would probably equate to about 50% of Raduljica's shots.
Or maybe the Philadelphia 76ers. I've said this before: Samuel Dalembert needs to go and therefore a new centre needs to replace him, Raduljica is still young, which is what the Sixers need and they also like young athletic kids, especially those with long wingspans. I feel Miroslav would be able to fit right in and really become part of this team.
Sam Chadwick is a assistant coach for the Solent Kestrels U13 team. He also writes a basketball-centered blog called Behind The Back.
Powered by

Sidelines
This post was published on April 11, 2010