April 12, 2012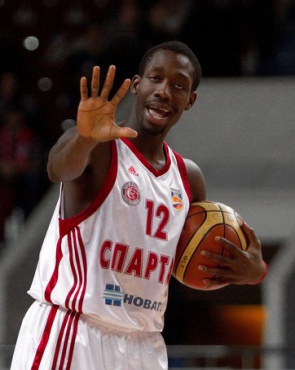 In the leadup to the 2011-12 Eurocup Final Four tournament beginning on Saturday, Eurosport Turkey basketball commentator Uygar Karaca contributes a series of previews on the remaining quartet entitled "Four Teams, Four Stories" to BallinEurope.
Today taking a look at one of the two remaining Russian sides, Karaca writes "Zenit St. Petersburg reached its zenith when they managed to grab the UEFA Cup. Now, president Igor Lypsky, former deputy manager of Gazprom, has the same ambition. Isn't it time for their citizens to win a European competition in basketball?
Talking about Spartak St. Petersburg is talking about history. Founded in 1935, the club stands as the oldest among the Eurocup Final Four competitors. However, as this marks the first time that Spartak has reached this level of competition, I think we can call St Petersburg experienced Eurocup rookies.
Summarizing the team's story in a timeline, we can say that Spartak's best years were in the 1970s, 90s and the present. Beginning the 70s, for five years they grabbed only second-place finishes until 1975, when legendary coach Vladimir Kondrashin and his lads managed to beat CSKA Moscow to become Soviet league champions. In the meantime, they took the Saporta Cup twice – in 1973 and 1975 – during an era the Italians dominated on the Continent with teams like Varese, Milano and Cantu. St. Petersburg were the champions of the last Soviet League season in 1992 and have gone silent since then. Until last season.
Russian Basketball Federation president Alexander Krasnenkov was the man behind the comeback project. In the summer of 2010, he declared that the budget would be enhanced dramatically with the goal to immediately get involved in Euroleague competition. A sports hall project was planned to be finished early this year, but the opening ceremony has been postponed to July.
While keeping up the collaboration with general manager Alex Karvanen and Israeli coach Zvi Sherf, the first signs of today's achievements showed when Spartak managed to gain entrance to Eurocup again for 2009-2010. Unfortunately, the team's adventure finished at the regular season stage after Levance Fields missed the decisive shot in the last play of overtime against Bilbao Basket. Coach Sherf managed to keep the team tight, however, and last season St. Petersburg run the Russian Cup for the first time in 24 years. Moreover, players like Henry Domercant, Pero Antic and Anton Ponkrashov carried the club to the semifinals of 2010-11 Eurochallenge campaign where they failed to quite fulfill expectations, landing in fourth place.
This year, Spartak started with grander ambitions. Sherf and the leading trio left but were replaced: Jure Zdovc became the new head coach and built a great team around Patrick Beverley, Yotam Halperin and Loukas Mavrokefalidis — It looks like there is a bit of a lineup of former Olympiacos Reds here and one should thus not be surprised if the presence of Stefanos Dedas on the bench is noticed. Zdovc probably knew Dedas from his days of Panionis Athens or Iraklis BC and the duo worked together in the Slovenian national team.
Defense is once again the best weapon for Spartak. This were the first team to beat CSKA this season, taking advantage when Victor Khryapa was injured. The offense has a variety of options; using the post players creates many opportunities for Beverly and the team to score – though opponents eventually turn to a zone defense and that's the critical point.
Spartak boasts really good shooters from outside in Aleksey Zozulin, Viktor Keyru, Valeriy Likhodey and Miha Zupan. However, Beverly sometimes shows inconsistency in his three-point shooting and a bad day from him could cost the team a title. Nevertheless, Spartak suffered only one loss in this season's Eurocup campaign and that came against Banvit when Spartak was already qualified.
Generally speaking, experience strikes. Aleksey Zozulin, Aleksey Kotishevski and Viktor Keyru are players that basketball enthusiasts know very well. Zozulin was an important member of Team Russia for years as a good ball handler and organiser. He backs up Beverley occasionally and gets help from this year's young Latvian addition Janis Strelnieks. Strelnieks does not have much opportunity to look at the rim but his excellent defensive support has been crucial.
The twin-tower system of Mavrokefalidis and Anatoly Kashirov usually works quite effectively. The pick-and-roll plays of Halperin with Mavrokefalidis are especially dangerous considering the midrange shooting ability of the Czech-born center combined with the dribbling-towards-the-rim-for-the-layup habit of the Israeli guard.
Vladimir Dragicevic backs up Mavrokefalidis and loves to play close to the post: Earning the team's third-most points is his reward. Kashirov and Miha Zupan usually do the dirty work there. Zupan was already a Spartan when his former national team coach arrived, whereas Likhodey blossomed again at Triumph Lyubertsy and Kashirov returned after gaining needed experience in Germany.
Finally, there is of course Keyru, a kind of player who can get responsibility on the big stages. Last year's stint at Dynamo Moscow was a personal best for Keyru after all those glorious years on the CSKA bench. With Spartak, he generally waits for his turn patiently and complies with the teamplay.
When we look at this team, we can surely say that one factor can take St. Petersburg to the title: their hunger for a European triumph. Most of Spartak's roster has played with big clubs in big leagues, but either the team lost in the last stand or their personal roles were limited. Maybe it is time for these players to get one crown for themselves. The fact that Spartak has lost their last two PBL matches and have not managed to defeat Khimki, their upcoming Eurocup opponent, is discouraging but the Final Four is where anything can happen. After all, Eurocup Coach of the Year Jure Zdovc was a member of 1992-93 Euroleague champions Limoges, wasn't he? And who was the favourite of the finals that year, his team or Toni Kukoc's Benetton Treviso…?
Powered by

Sidelines
This post was published on April 12, 2012