August 3, 2009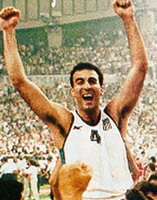 Thanks to all the folks who read and commented upon the recent Ball in Europe article "Dream Team Europe: The All-Time European Basketball Team." Before announcing a few augmentations to the squad, i'd like to answer one commenter's response; going by the intriguing tag "isthispleasure," this reader seemed to address many concerns other readers had about the initial Dream Team Europe squad (and did so mostly uninsultingly).

These kind of articles are meant to always produce heated debates.
No doubt all the players you mention in your list are great.
However allow me to say that with the exception of Dino Meneghin and Saras for every other single player the predominant criterion backing their selection is their participation and success on the NBA. Allow me a leap of faith and let's set this hypothetical example as an argument. Let's say that Josh Childress is European. He was one of the best 6th men on the NBA came to Europe with a King's contract and won nothing. Does his achievement make him a European legend? Not at all. The best win titles, MVP awards and inspire generations.
That is a major problem of your list as you are speaking about European Basketball holding almost no regard to European basketball folklore and domestic competitions and judging only according to NBA participation.
Rik Smits out – he did not inspire anybody, he was a tall dude that was a good center of his era. Diaw? Did not win anything, he is another good player in the NBA. Schrempf was always absent from Europe. Maybe he was the first European to have a consistent career in the NBA but did not achieve anything in Europe. Marciulionis is a different story but maybe even he should not make the cut.
Many speak about Galis, and the truth is that Galis led Greece, a nation that before 1987 did not even know what basketball was to a European title, notably scoring 40 in front of Marciulionis. In his era, he was an unstoppable scorer and inspired post 1987 Greece basketball, he almost shaped Greek basketball in what is today. Anyone with at least some knowledge on euro ball would acknowledge that Greek ball is a major force today in Euro basketball and well, Galis was the one that put it on the map. Enough said.
Others mention Dejan Bodiroga. It is a sin having a list with Schrempf, Diaw, Smits and the likes and forgetting Bodiroga. 2 FIBA World Championships, 3 Euro Championships, 3 Euroleague titles, compeltely dominating Euro ball for a decade. How do those achievements compare to Smits 5,000 rebounds or Diaw's three years in the NBA? They simply do not.
First off, an apology to everybody: Yes, omissions of Dejan Bodiroga, Nikos Galas and a couple of others (see prospective additions below) on Dream Team Europe were really simply oversights to be corrected before team actually hits the virtual court in its upcoming tournament.
Isthispleasure's concern re: "the predominant criterion backing their selection is their participation and success on the NBA" is somewhat valid, but as a reply, i'd offer another theoretical example: Let's say an American soccer player who's represented his team with distinction in international competition goes to England to play in the Premiership. He hardly ever plays and ultimately returns to his home country where he continues his career as an integral part of Team USA. I call this guy Cobi Jones, and he makes my modern-era Dream Team USA football club.
(Now i know that the general state of fandom and quality in American soccer cannot be compared to that of European basketball, but stay with me here.)
Most would agree that the NBA (even more so than British Premiership football) is the highest level of competition in its sport, and in my opinion, a pioneer status counts for something. To say that Drazen Petrovic, Sarunas Marciulionis, Toni Kukoc, and even Detlef Schrempf were the first players of longstanding European basketball traditions to gain distinction in the NBA means a great deal.
I'd even argue that such players cracking into – and starring in – even "inspire generations," a key aspect of whose importance i agree with isthispleasure. How many more young Chinese enthusiasts will be created because of Yao's success in the NBA as opposed to a career he might have spent playing in the Chinese national league? And Marciulionis' experience in the NBA is credited with ultimately leading to the organization of Team Lithuania for the 1992 Olympics.
I would also add that every one of the original 14 Dream Team Europe players performed well in international competition for their home country; is this an achievement in Europe, albeit not at a professional club level?
In closing, thanks again for your thoughtful comments, isthispleasure and everyone else who took the time to pitch in their two eurocents.
And now, five more invitees to the Dream Team Europe training camp!
Dejan Bodiroga. You wanted him, you got him. Aside from his many honors and impressive statistics, Bodiroga truly represents the internationalism in European ball since the 1990s. Over 18 seasons, Bodiroga played in five countries for eight different teams, winning titles nearly everywhere he traveled; his resume includes Italian League, Greek League, Spanish League, Italian Cup, Spanish Cup, Spanish Supercup, European Cup and Euroleague titles. Oh, and eight medals in international play.
Nikos Galis. Ah, y'all know all about him, so instead enjoy this highlight clip of the 1987 Eurobasket final, appropriately entitled "Galis vs. USSR."
Theo Papaloukas. Looking over the original 14 again, a dearth of Greeks is represented, despite being one of the prouder traditions in Europe. So enter this All-Euroleague Team guard/forward possibly to play alongside Galas! Plus, so sayeth Wikipedia: "Papaloukas symbolizes the rise of European basketball in the new millennium." Well, all right then.
Peja Stojakovic. Peja capped a six-year European professional career with back-to-back Greek League MVP titles before heading to the 'States to play in Sacramento. He's since gotten three NBA All-Star bids, two Mr. Europa Player of the Year awards, and that big gold medal from the 2002 FIBA Worlds with Yugoslavia.
Andrei Kirilenko. Talk about pioneers: Kirilenko is the youngest ever to play in the Russian Superleague, cracking the Spartak St. Petersburg roster at age 16 and was also the youngest European ever to be drafted into the NBA. Still in Russia with CSKA Moscow, Kirilenko recorded the Euroleague's second-ever triple-double in 2001. Despite a few oddities of character and rumored coach-chafing, Kirilenko stuns Utah audiences consistently with his play on defense. And his wife.
Incidentally, i know Oscar Schmidt is not on this list; as a Brazilian, he'll just have to wait for Dream Team South America. And this exclusion has nothing to do with the 1987 Pan Am Games. Well, not much anyway.

Next up: The coaching staff. Anyone want to offer opinions on that one…?
Powered by

Sidelines
This post was published on August 3, 2009