September 5, 2011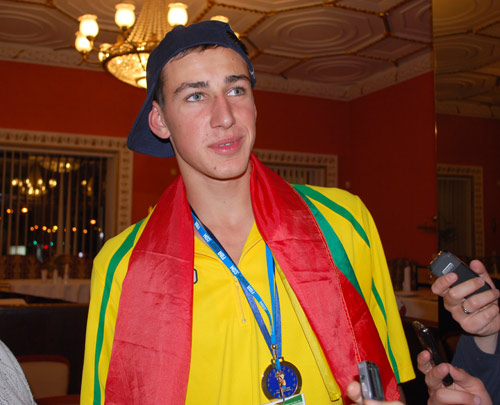 Naturally, everyone in basketball-rabid Lithuania has their own favorite on the national team, but the overwhelming devotion attractor right now is unquestionably Jonas Valanciunas. As the future of Lithuanian basketball itself – he's six years and one month younger than the next most junior member of the national team – it's not too much of a hyperbole to say that the hopes of hoops fans here are inextricably pinned to Big V's big chest.
And apparently, he even moves one Lithuanian, christened "O'Grime," to song. (BiE presumes he's Lithuanian, anyway … another of his videos immortalizes Zydrunas Ilgauskas.) This anthem is sometimes played in the warmups of the home team's EuroBasket games and if it ain't a no. 1 hit here, it probably will be soon.
See below for O'Grime's masterwork, "Valanciunas (Big V Lithuanian Hero)." It's a pretty decent bit of rap styling, but if you're wondering what rhymes with "Valanciunas," the answer is nothing. Well, except, of course, for "Valanciunas."
Incidentally, in case you're wondering what sort of attention Big V garners here in Lithuania, take a look at a representative scene following game two of this tournament surrounding the prospective Toronto Raptor – a game in which Valanciunas played 18 minutes and scored seven points, making him Team Lithuania's eight-highest scorer.
Powered by

Sidelines
This post was published on September 5, 2011