September 24, 2007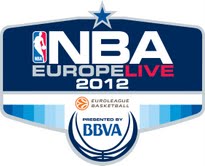 I really feel sorry for all NBA fans in Turkey. But then I must say thank you to the Boston Celtics. If you know now that the NBA is coming to Europe again this year (October 6th – 11th) with the Boston Celtics, Minnesota Timberwolves, Toronto Raptors and the Memphis Grizzlies you know why.
So why do I feel sorry for fans in Turkey? Well they will get to see the Minnesota Timberwolves playing Efes Pilsen – without Kevin Garnett – he will be playing in Italy with his new squad – Boston Celtics which gives me the opportunity to see him play with Paul Pierce and Ray Allen in Rome.
Rome and Istanbul aren't the only two cities the NBA Europe will stop this year – London, Malaga and Madrid will join the group. If you check the map that is on nba.com (where you also can get tickets for the games) it looks more like a battle plan which basketball country has been taken by the NBA but that is the plan anyway right?
Looking at the schedule you can see that the Timberwolves will play the Celtics in London. Now as far as I know the schedule was done before the deal between Minnesota and Boston. Is this the reason why the game is already sold out?
If you are one of the unlucky people not living in or taveling to one of these countries you still can watch it LIVE on TV:
Albania
Telesport
Armenia
Armenia TV
Cyprus
Lumiere TV
Finland
Urheilu+kanava
France
Canal+Sport / Sport+
Greece
ERT
Italy
Sky Sport
Netherlands
Sporteen
Pan Africa
Canal+Sport Horizons
Pan Africa
Sport+
Poland
Canal+Sport
Slovenia
Sport Klub
Spain
Cuatro / Canal+
Turkey
NTV
NBA TV
USA
ESPN2
NBA TV
Powered by

Sidelines
This post was published on September 24, 2007