January 7, 2012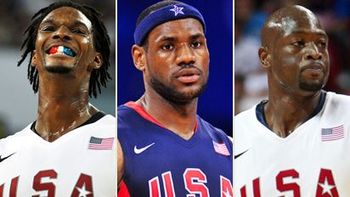 It's always a good time for some predictions, eh? Sam Chadwick, Ball in Europe's man in the UK, today dusts off the Official BallinEurope Crystal Ball in looking forward to another year of top-quality basketball in the world's top competitions. Who does Sammy like in the NBA, Euroleague, college ball and the Olympics? Read on to find out (and see plenty of highlight clips).
This year sees the London Olympic games, a shortened NBA season, another year of Euroleague basketball and the NCAA Final Four – what more could we possibly ask for? Happy new year…
• NCAA Final Four winner: University of North Carolina
Why: I know they have lost, and I can see they have some tough opposition in Kentucky, Ohio, Baylor, Indiana, and a lot of other strong NCAA sides across the States. My reason for picking UNC is experience: This team was stronger than expected in March last year when they surprised a lot of people; this year the Tar Heels were no surprise, ranked no. 1 in the preseason. This line-up has determination written all over it, every single player on this team does not want to lose.
• NCAA Final Four runner-up: University of Kentucky
Why: Sitting at 14-1, the Wildcats are one of the NCAA's strongest and most well-coached sides. Guys like Michael Kidd-Gilchrist, Doro Lamb and Marquis Teague are all massively talented players who should lead this side to yet another final four appearance – add potential top five NBA draft pick Anthony Davis atop all this and this team screams NCAA Finals and possibly even NCAA champions.
• NCAA third-place finishers: Baylor
Why: Still yet to lose a game, Baylor with Quincy Acy, Quincy Miller and top-five draft pick Perry Jones III could go all the way to the Final Four in Atlanta. Their use of athleticism, speed and conditioning make this team formidable, and we all know what Jones can do when the game is on the line. It was hard to pick the Bears over the likes of Ohio State but I couldn't leave them out.
• NCAA fourth-place finishers: Indiana
Why: This team has beaten some pretty tough opposition such as Ohio State and Kentucky. Cody Zeller has been phenomenal, leading the team in both scoring and rebounding, while teammates Christian Watford and Jordan Hulls have helped the Hoosiers to a solid record so far. It's safe to say that this team has turned it around after a few years of scandal and mediocrity.
• NCAA Most Outstanding Player: Harrison Barnes
Why: If Barnes manages to carry his team to the Final Four and another championship, if he lives up to his potential, if he avoids injury, his determination alone will not let his team lose … Let's see if his body will do the same.
• Euroleague Champion: CSKA Moscow
Why: Have you seen this team? And you still need to know why? Andrei Kirilenko is playing with pride, passion and energy, doing everything for this team willing to do everything for him. Kirilenko is a leader, a veteran and possibly the best player in Europe (cue angry fans of La Bomba in the comments section). Serbian guard Milos Teodosic has played superbly, while big men Sasha Kaun and Nenad Krstic form a formidable front court which could score against anybody. In addition Alexey Shved is one of Europe's top young point guards, who spent this summer on international duty with the Russian national team. An overall excellent roster.
• Euroleague runner-up: FC Barcelona
Why: Juan Carlos Navarro is the Euroleague's all-time leading scorer and continues to increase his gap at the top of the list; he's alongside a point guard who has been capable of filling the gap left by Ricky Rubio in Marcelinho Huertas, who is averaging 9.2 points, 2.6 rebounds and 5.0 assists per game while hitting 42% of his three-point attempts.
• Euroleague third-place finishers: Montepaschi Siena
Why: We all know that Bo McCalebb can do some magical things, things like guide Macedonia deep into Eurobasket: This year he'll carry his side to the Euroleague Final Four thanks to his injury not being as severe as first thought. A battle for third place between Siena and Panathinaikos should be an interesting watch.
• Euroleague fourth-place finishers: Panathinaikos
Why: Last year's reigning Euroleague champs look to reach the final fours yet again; I don't see them being as strong as CSKA or Barcelona, but a third- or fourth-place finish is always a positive. Nick Calathes is a born winner and will look to add more silverware for this team.
• Euroleague MVP: Andrei Kirilenko
Why: Andrei Kirilenko is dominating European basketball once more. His return to the EL was a 17-point, 15-rebound, five-assist beatdown of Žalgiris Kaunas; since then, he has gone on to average 13.8 points, 9.0 rebounds and 3.4 assists per Euroleague game while hitting 57% from the field and 60% on threes. Even his free throws are going in at an 81% rate. While these numbers are impressive, if he can lead his side to a victory in the Euroleague finals, I'm sure he will be a more than deserving MVP.
• NBA champions: Miami Heat
Why: The strongest team in the NBA, as much as I hate to say it: Lebron James, Chris Bosh, Dwayne Wade, James Jones, Shane Battier … This team is literally insane, undefeated until narrowly losing to the Atlanta Hawks, in a game they probably shouldn't have. This team is just too talented to lose it for the second straight year.
• NBA runner-up: Oklahoma City Thunder
Why: The West got a new bandwagon this off-season in the Los Angeles Clippers, but there is no denying the strongest squad in the Western Conference is still the Oklahoma City Thunder. The Thunder may be young but, for their age, their experience is second to none, including a conference finals appearance last season. Kevin Durant is back better than ever; add that to an ever improving James Harden and Russell Westbrook, and the Heat may struggle come finals time.
• NBA finals MVP: Lebron James
Why: He wants to silence the haters, all those people that said he lost it in the finals last year against the Dallas Mavericks. He wants revenge, he doesn't care who he plays he's going to go after it, whether its carrying his team's scoring load, grabbing rebounds or dishing assists. Lebron can do it all.
• NBA regular-season MVP: Ask again later
Why: I honestly can't decide … my top three (in no particular order) run below.
Why Derrick Rose: Rose continues to lead the Bulls to one of the best records in the Eastern Conference; he has been a scoring force but has not forced his shot as much as last season. Thus far, his assist numbers are solid, and he outplayed Chris Paul in L.A. in a big way, scoring with ease while also dishing when needed. Rose's teammates are stepping up, whether it be Luol Deng hitting game winners or new addition Rip Hamilton. If Rose can keep it up while leading the Bulls to another first- or second-place finish in the East, the votes may go his way for the second straight year.
Why Lebron James: Have you seen his numbers? Once you have, you'll understand why I don't need to justify Lebron as a consideration.
Why Kevin Durant: This season, K.D. will probably lead the league in scoring again, will hopefully improve both his rebounding and assist numbers, and will drive his team to the no. 1 seed in the Western Conference faster than anyone (including myself) expected. Durant has been in the running for MVP the past few years, but 2011-12 could be the season in which his team does some *serious* damage.
• NBA Rookie of the Year: Ricky Rubio or Kyrie Irving
Why Rubio: He is the best guard on one of the West Coast's rising young teams, a team that has beaten the San Antonio Spurs and Dallas Mavericks while taking their 4 losses by an average of 3 points per game, including a 4 point loss to the Thunder, a 2 point loss to the Heat and a 4 point loss to the Grizzlies. Rubio has been phenomenal, yes he isn't scoring like Blake Griffin did last year, but his assists come with such beauty and pinpoint accuracy it's hard not to drop your jaw … his behind-the-back passes, his alley-oops to fellow rookie Derrick Williams, it's all just too perfect. Other rookies may score more but Rubio does it all with style. As of this writing, Ricky is averaging 9.3 points, 3.8 rebounds and 7.0 assists per game while his team stands at 2-4.
Why Irving: Honestly, not many rookies have impressed me so far in this very young NBA season; the incoming draft class has a lot fewer stars than that of John Wall and Blake Griffin last year. Kyrie is one of the few who have just done what's needed of him. Playing for the Cleveland Cavaliers, who have a pretty bad lineup but have yet to go on some kind of ridiculously long losing streak *but* wins against bottom-dwellers such as the Charlotte Bobcats and New Jersey Nets. So far this season, Kyrie is averaging 14.6 points, 3.7 rebounds and 5.3 assists per game while his team stands at 3-3.
• 2012 Olympics, gold-medal winner: United States of America
Why: Team USA won the last Olympic games with the 'Redeem Team' back at Beijing 2008, while a young but solid USA side won the 2010 FIBA World Championship in Turkey behind the likes of Kevin Durant, Chauncey Billups, Lamar Odom, Derrick Rose, Kevin Love and Russell Westbrook. This summer the team will be even more talented with the likes of Dwayne Wade, Lebron James, Derrick Rose, Chris Paul, Kevin Durant, and Blake Griffin all improving since the last Games. Together with a few key names, the London Olympic basketball finals may be one of the best to ever take place in an international tournament, so make sure you tune in and watch.
• 2012 Olympics, silver-medal winner: Spain
Why: I wish I could say "Great Britain, home-court, everyone involved, Luol Deng, Joel Freeland, Pops Mensah-Bonsu, maybe Ben Gordon, Devon Van Oostrum, Ryan Richards…" the talent is there, but the experience is not. Teams like Spain and Russia should be able to get by us and into the quarterfinals and finals. My choice for runner-up is Spain: their dominant performance at Eurobasket 2011 with Serge Ibaka aboard; plus potentially Nikola Mirotic to make this team even better than it currently is; the existing front line of Marc and Pau Gasol is already a formidable force; the improvement of Rubio; and veteran talent Juan Carlos Navarro and Rudy Fernandez … thinking about it, these players might even surprise for gold…
• Player to Watch: Ricky Rubio
Why: A season of playing in the NBA against the world's best opposition while being able to continue to work on his jump shot will work wonders for the Spanish point guard. His confidence had dropped after being removed from the national team's starting lineup, but with the added confidence the NBA season brings him, look for Rubio to be one of the best players to watch in London.
That just about sums up my predictions for 2012. I'm hoping it will be a great year for all of you and don't forget to continue reading BallinEurope; this year is going to be even more exciting than last!
Sam Chadwick is the co-head coach of the Solent Kestrels U14 basketball team, along with dividing the remainder of his time among an assistant quantity surveyor job, university studies and sportswriting. Chadwick is now a contributor at BBLfans.com, and you can follow him on Twitter at @chadwick9.
Powered by

Sidelines
This post was published on January 7, 2012