August 25, 2010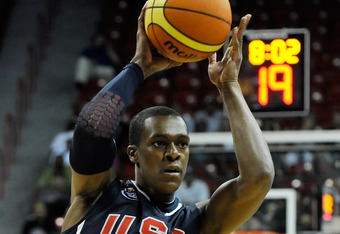 It's a good news/bad news news item for Team USA backers: The good news is that the Red-White-and-Blues finally have their 12-man roster for the 2010 FIBA World Championship roster; the bad news is that the electrifyingly exciting Rajon Rondo won't be on, having essentially decided to leave the team proactively before his dismissal.
Figuring the writing was on the wall after the Spain game on Sunday in which he received his first "DNP" since his rookie year with the Boston Celtics, Rondo was quoted by ESPN as explaining that leaving the team was "what's best for the country." He also said that the DNP was "part of it. We knew coming in [that] it was still tryouts until we make the team that goes to Turkey."
As for the official word, USA Basketball chairman Jerry Colangelo's statement read in part: "Rajon came to us and said he was going to withdraw from the team, that he had some family matters to attend to and some things to take care of before the NBA season. He did an outstanding job during our training, we appreciate the effort and commitment he made to our program and he completely has our support."
And BallinEurope would be remiss in not catering to a certain segment of its audience (ahem, Lithuania, cough, ahem) if BiE didn't post perhaps Rondo's most notorious play in what would be his last game with the squad:
The final 2010 Team USA roster is composed of Chauncey Billups (Denver Nuggets); Tyson Chandler (Dallas Mavericks); Stephen Curry (Golden State Warriors); Kevin Durant, Russell Westbrook (Oklahoma City Thunder); Rudy Gay (Memphis Grizzlies); Eric Gordon (Los Angeles Clippers); Danny Granger (Indiana Pacers); Andre Iguodala (Philadelphia 76ers); Kevin Love (Minnesota Timberwolves); Lamar Odom (Los Angeles Lakers); and Derrick Rose (Chicago Bulls).
Team USA's official press release also passes on some comparisons with previous squads, as follows.
•••••
The twelve members of the USA World Championship Team, by the end of the FIBA World Championship (Sept. 12), average out to be 24.66 years old. The roster features six players 22 years old or younger: four players are just 21 years old (Durant, Rose, Gordon, Westbrook) and two are 22 (Curry, Love). The oldest player on the USA roster is Chauncey Billups, who is 33 years old.
By comparison, the 2006 team (the proto-Redeem Team) averaged 24.58 years of age; 26.16 in 2002 (the Nightmare Team); 27.83 in 1998 (the Dirty Dozen in an NBA lockout year, one of BiE's favorite-ever Team USAs); 26.33 in 1994 (proto-Dream Team II); and in 1990, the last team consisting of collegians, was 20.08 years old.
The 2010 USA World Championship squad averages 5.0 seasons of NBA experience, with one player having one season (Curry), four players (Gordon, Love, Rose, Westbrook) possessing two seasons, one with three (Durant), one with four (Gay), one with five (Granger, the former University of New Mexico Lobo), one with six (Iguodala), one with nine (Chandler), one with 11 (Odom) and one with 13 seasons (Billups).
•••••
Team USA plays its last (!) friendly tonight against Greece in Athens at 6pm CET (noon EST).
Powered by

Sidelines
This post was published on August 25, 2010