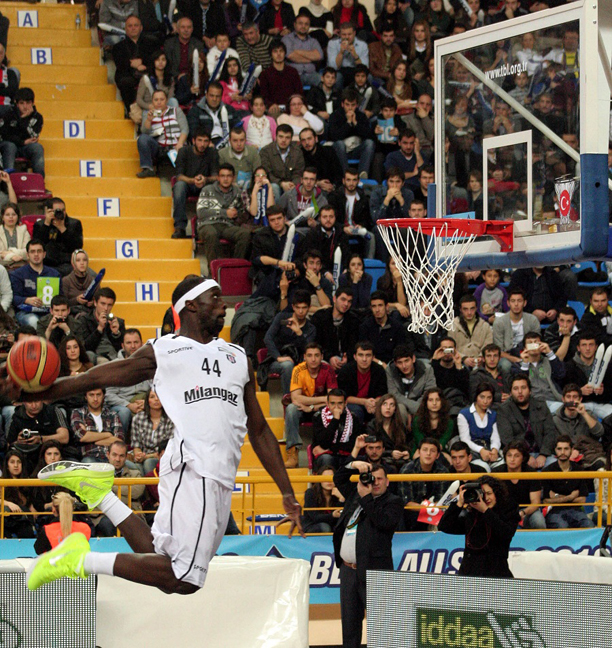 Today sees the culmination of the Turkish Cup with a stunning finals matchup between Beşiktaş Milangaz – who took out Euroleague Top 16 side Galatasaray on Thursday – and the TBL's fourth-place Banvit.
Key to the former's success in reaching the Cup match was BallinEurope fave Pops Mensah-Bonsu, who contributed an insane double-double in the semifinals of 18 points and 19 rebounds – and so on the occasion of another gold star on Pops' CV, below runs the FIBA official website's recent piece profiling Team Britain's glue guy as the 2012 Olympics approach.
And for no real reason other than sheer awesomeness, directly below is Pops throwing down a few jams – talk about your rim-rockers…
(FIBA) – Great Britain's Pops Mensah-Bonsu had to watch in frustration as his national team played at last year's EuroBasket in Lithuania while he recovered from a shoulder operation.
Make no mistake, the 28-year-old center remains a key man in the British set-up with the Olympics just several months away.
On Thursday night, the 2.06m (6'9") Mensah-Bonsu scored 18 points and hauled in 19 rebounds as Besiktas beat Galatasaray 76-69 in overtime to reach the Turkish Cup final. They will take on surprise package Banvit in the title showdown on Saturday.
The shoulder injury cut short Mensah-Bonsu's 2010-11 campaign when he was on the books of Asvel Villeurbanne in France and forced him to have surgery.
He had been indispensible for the Brits in their successful EuroBasket 2011 qualifying campaign, averaging 19.3 points and 13.5 rebounds.
Powered by

Sidelines