October 4, 2009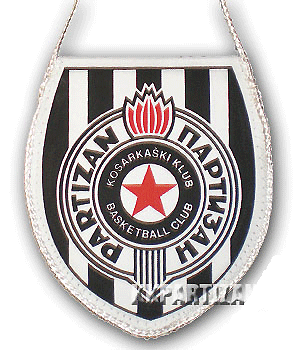 How many oldsters do you know that choose to celebrate a 64th birthday by going four quarters? Of course, Кошаркашки клуб Партизан, a.k.a. KK Partizan, isn't your typical sexagenarian, either.
Partizan's basketball club was founded on October 4, 1945 and in its first season took the Yugoslavia title. As the excellent – albeit in Serbian only – history page of the team's official website informs, back then the team was in proper communist-era fashion, a wing of the country's army and known as the "CDNJA Partizan Sports Association." In 1953, KK Partizan broke from its military affiliation to participate in a reorganized national league of Yugoslavia.
Interestingly, Partizan was, if not a non-contender, simply one of the basketball herd in Yugoslavia for half the team's history. From 1946 to 1976, Partizan managed to finish second five times while never bagging a title. Then, however, the fate of the team and, in some respect, professional basketball throughout Europe, was turned around to become expected success from the pride of Belgrade.
The official history credits then-Team Yugoslavia coach Dražen Dalipagić Kosor with creating the Partizan machine, and the squad established a regional winning tradition through the 1970s and 80s. After taking the Yugoslavian championship in 1976, the black-and-white snagged Korac Cups in 1978 and 1979; further national titles in 1981 and 1987; Yugoslav cups in 1985 and 1989.
That late-80s period is known as Partizan's "Dream Team" era, with a generation that produced Alexander Djordjevic, Zarko Paspalj, Ive Nakić, Miroslav Pecarskog, and of course Vlade Divac. Divac and Paspalj would join Drazen Petrovic as the first players from then-Yugoslavia to play NBA ball.
While the club rightfully reckons the greatest year in Partizan history to have been the triple crown-winning season/Euroleague championship of 1991-92, but throughout the past two decades has this team been in the discussions of best team on The Continent. From 1992-2009, the team has been champion of its country, including its current eight-year run at the top, and has taken the last three Adriatic League titles.
And not only can these guys play ball, Partizan still boasts one of the most devoted (and wackiest) fan bases in all in Europe to cheer on the boys from Belgrade in the Euroleague's answer to old Boston Garden, Pionir Arena. Perhaps even more impressive that the young team's international success last year was the Euroleague record-breaking attendance mark set by Partizan fans.
So what do you get the team that has everything? How about some plain ol' Happy Birthday thoughts, and Best-of-Luck wishes for the upcoming season?
Powered by

Sidelines
This post was published on October 4, 2009