March 10, 2011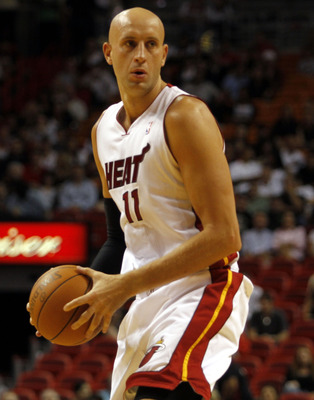 Lithuania-based news outlet/high-profile club sponsor Lietuvos Rytas yesterday published quite an extensive piece on Zydrunas Ilgauskas and his recent lack of playing time with the NBA's most woeful Miami Heat.
Big Z took his talents to South Beach for the veterans' minimum salary of $1.4 million this year reportedly at the behest/encouragement of LeBron James, his longtime teammate with the Cleveland Cavaliers. While Ilgauskas was getting about 20 minutes per game of action in the 2010-11 season's first month, he has seen a precipitous drop in playing time over the past month or so. Three "DNP – coach's decision" lines run across Ilgauskas' game log for February and Tuesday night the Lithuanian saw just three minutes of floor in the Heat's loss to the Portland Trail Blazers.
Proclaimed Ilgauskas to Lietuvos Rytas: "I think I have had enough of this game. … I don't want to sit on the bench and do nothing. I'm tired of the constant and long-term travel, a busy schedule of events. I'm not 20 years old anymore and no longer [in peak condition], so I think that after this season would be a good time to retire from the NBA. I have given everything for basketball. Now I would like a good rest and to spend more time with my family."
As for possibly ending his career in Eurobasket 2011 with Team Lithuania – incredibly, despite playing club basketball since 1994 with Atletas Kaunas, Ilgauskas has never suited up for his national squad – the Big Z simply deflected the interviewer's question with "I am too old" and suggested that they "let the younger guys play." ("…Lietuvos rinktinei esu per senas. Kam juokinti žmones, tegu žaidžia jaunesni. Yra kam žaisti ir be manęs.")
Ilgauskas was quite interested in playing for Team Lithuania at the 2008 Beijing Olympics, but the Cavaliers reportedly demanded that the national team insure their then-starting center for some $22 million.
Over 12 seasons in Cleveland (though only 10 should be considered full seasons), Ilgauskas wrote his name all over the Cavs' record books: He's currently first all-time in Cavaliers history in games played (771), offensive rebounds (2,336), total rebounds (5,904), blocks (1,269); he's second overall in career minutes played (21,820), points (10,616), defensive rebounds (3,568); third in free throws attempted (3,197) and made (2,495); and fourth in shots attempted (8,523) and made (4,045).
Powered by

Sidelines
This post was published on March 10, 2011