January 3, 2011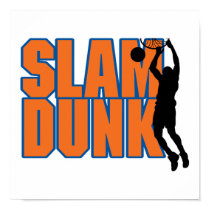 Retrospective time comes again to BallinEurope! But hey, who doesn't like an excuse to watch a bunch of air-raising slam dunks? Following are 20 of the best dunks pulled off in Europe, by Europeans or on Europeans; whether historically significant or not, all have one thing in common: That awesomeness inherent only in a proper jam. Enjoy a year's worth of emphatic twos from BiE!
• How great is everything going for Maccabi Tel Aviv this season? They even produced one of the greatest jams of the calendar year with Jeremy Pargo's bitchin' double-posterization in which first he breaks ankles before jamming it over (through, really) the hapless Zalgiris Kaunas big man.
• BiE's been hype about Jan Vesely since the young man turned it on for Partizan in the 2009-10 Euroleague Top 16 round. Though not yet an earth-moving force for the Black-and-Whites, flashes of brilliance are never far away when Vesely's on the court. First comes a representative Vesely dunk off the breakaway; as for the second, well, how does a seven-footer turn invisible like that?

and another Vesely:
• Marcus Johnson somehow managed to turn LeBron James' head all the way from the home of VfB Giessen; no wonder with a ridiculous dunk like this. And in a truly 21st-century turn of events, Johnson found his Twitter account popularity quintupling within 12 hours of King James' exhaltations.
• When compiling a list of best dunks of 2010, there's only so far one can go before the words "Blake Griffin" appear. So here's the NBA's most exciting player devastating the New York Knicks' European representatives Timofey Mozgov and Danilo Gallinari in a single November game.
• Speaking of Gallinari being posterized, here's another example of the Italian on the wrong end as Israeli sensation Omri Casspi beat Gallinari badly in the freshman/sophomore game at the 2010 NBA All-Star Game.
• So Gallinari's been embarrassed a couple of times. It's still nothing compared to Tony Skinn's amazing (and painful) jam perpetuated in Italy in 2010. Mercifully, this one's been taken down from YouTube, so you'll have to imagine…
• Over in France, former NCAA studs Marquez Haynes and Amadi McKenzie rule the air as well.
• But after Griffin, the game's air-traffic controllers really need to be policing the skies above the Balkans for Marty Pocius, a young dude who proves that Lithuanians can fly … or at least this one. Seriously, check out the hang time and aerodynamics in just a pair of representative jams from the 2010 FIBA World Championship.
• Pocius' teammate Jonas Maciulis ascended to new heights in the summer tournament, too:
• Not exactly awesome, but probably historically significant were former Baskonia superstar Tiago Splitter's first NBA points for the San Antonio Spurs.
• Partizan's James Gist won "Euroleague Play of the Night" honors for the following sequence; he easily could have won two such awards with the highlights on both ends of the court.
• If this is BallinEurope and we're talking dunks, well, then, yes, the entrance of Sofoklis Schortsanitis is inevitable. How happy were Maccabi fans to see this on their side in October?
• If a dunkophile only got to watch one game in calendar year 2010, BiE sincerely hopes it was the Olympiacos-Partizan Euroleague Final Four game: This one was a veritable big reel of highlight dunkage, particularly from the Reds. Roll 'em!
Here's a sweet jam by Linas Kleiza; check out how Big Sofo passes through the double-team while in the paint. Nice.
And here's one of Sofoklis' last-ever Euroleague dunks for Olympiacos.
Here, Josh Childress turns a busted play into an almost nonchalant two points; while some might contend that Childress may not actually slam that dunk down, neither did Griffin against Mozgov up there and no one complained.
However, no dunk on all The Continent in 2010 matched in importance this contribution that saved Olympiacos' Euroleague season at the buzzer. Ladies and gentlemen, here's the reason Josh got paid the big bucks. (Followed by a couple views from the stands of the play.)
Powered by

Sidelines
This post was published on January 3, 2011