June 18, 2012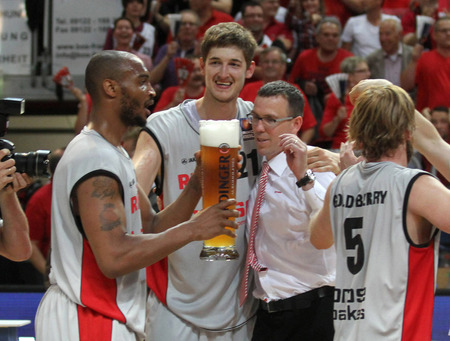 Now that Brose Baskets Bamberg has completed the 2011-12 season with its third straight German Bundesliga title, management there can get down to business – and some serious business they'll have to take care of, indeed.
First, the frivolity. From the Beko BBL official website, BiE contributor and he in-the-know about all things German sports, David Hein summarized Bamberg's championship title and current situation as follows.
"Brose Baskets once again proved masterful in dealing with the favorites role as Bamberg confirmed the expectations of nearly all prognosticators in sweeping Ratiopharm ulm in the Beko BBL Finals to compete the incredible double three-peat. It was a testament to Ulm and their amazing season that Isaiah Swann did not allow Bamberg to take Game 3 at home without a fight as he drained eight three-pointers in scoring 36 points. But as usual the depth and balance – and fortitude – of Brose Baskets were just too much: Bamberg won Game 3 by the score of 97-95 to complete the 3-0 sweep and hoist the championship trophy into the heavens of Franconia for the fifth time in the last seven years…
"But the celebrations were short-lived as Bamberg general manager Wolfgang Heyder now deals with the unenviable task of trying to keep a good chunk of the team together. Tibor Pleiß, Marcus Slaughter and Predrag Suput are all but gone, while Heyder and the Brose group are working hard to keep Finals MVP P.J. Tucker, Anton Gavel, Brian Roberts and Karsten Tadda."
"All but gone" he writes? In actuality, it seems the Bambergers have already accepted the departure of this trio from the roster which combined for 29.2 points, 14.2 rebounds and 3.2 assists per game in EL and BBL play in 2011-12.
As it stands for 2012-13, Pleiß will most likely get with the NBA Western Conference champion Oklahoma City Thunder, who acquired his rights in the 2010 draft. Slaughter reportedly agreed in principle to suit up for Real Madrid for the upcoming season as far back as mid-February, while Suput has yet to be linked to any team.
Meanwhile, the Brose Baskets front office has well moved on to the "acceptance" bit of the stages of grief, having posted some slick highlight videos in tribute to each of the triad. Enjoy a last look (from Germany) at the skills of Pleiß, Slaughter and Suput, respectively – and here's to wishing Bamberg lots of luck in filling out that roster.
Powered by

Sidelines
This post was published on June 18, 2012