October 14, 2010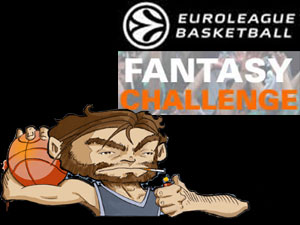 All right, Euroleague fantasy basketball fans: The BallinEurope Invitational League is now accepting teams. Simply send an email to ballineurope@yahoo.com or reply in the comments section of this post. I'll send out invites right through to Sunday, with the first deadline for roster changes coming on Monday.
The rules are as follows:
– No multiple teams. Okay, if you must have two teams, i'll allow it but please do not fill the table with 16 of your own teams.
That's it. We will be awarding the top finisher with … something. Probably Euroleague Final Four paraphernalia, but BiE'll let you know when something is officially arranged.
The bad news is that Javier Gancedo's ever-popular fantasy column will not be running here this season, as his employers at Euroleague.net requested that they publish it instead – what nerve, eh? (Just kidding, league folks; you know BiE loves ya…)
You can follow Javier's tips 'n' tricks at Euroleague.net; here's a link to his page on the website and you'll also find a permalink under the "What We're Reading" column. Javi has promised he'll be joining the BiE league, so look out, everyone!
Good luck to all contenders and, um, show a little mercy to the worst fantasy sports player ever, namely me, okay? Ah, didn't think so…
Powered by

Sidelines
This post was published on October 14, 2010