August 28, 2009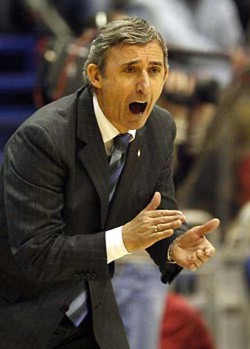 Today marks the 60th birthday of Svetislav Pešić, coach extraordinaire last with Red Star Belgrade.
After nearly a decade and a half playing the game (culminating in his late-career win with the European Champions Cup winner KK Bosna in 1978/79), Pešić has gone on to rack up an impressive number of accolades and successes in professional leagues and international competition.
Upon Pešić's mantelpiece are trophies including four consecutive Bundesliga Basketball League titles with Alba Berlin from 1997-2000; a Korać Cup (won in 1995 with Berlin); two German national cups (1997 and 1999, both with Berlin); an ACB championship (2004, with FC Barcelona); a EuroCup (2007, with Dynamo Moscow); and, at center, the Euroleague/ACB/Copa del Rey triple crown won with Barcelona in 2003.
Since the Yugoslavia-born Pešić also holds citizenship in Germany, he has been able to coach two prime European national sides. With Team Yugoslavia, Pešić-led teams took the 2001 Eurobasket and the memorable 2002 FIBA World Championship; this added to the gold medal he bagged for Team Germany at Eurobasket 1993.
So, many happy returns, Coach Pešić and good luck this season!
(Incidentally, if you'd like to celebrate in German, please check out Five Magazine's excellent piece in commemoration of the sexagenarian coach's birthday.)
Powered by

Sidelines
This post was published on August 28, 2009