September 24, 2011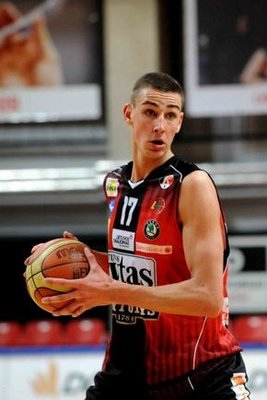 For all those interested – ahem, Toronto Raptors fans – no. 5 overall 2011 NBA draft pick Jonas Valančiūnas donned his #17 jersey for Lietuvos Rytas twice this week in a pair of exhibition games against Belgian side and fellow Euroleague qualifying round contenders Charleroi Spirou.
In the first day of the back-to-back games (and Valančiūnas' 2011 debut with the club) played before a mostly empty house, L. Rytas did just enough to take the match, 70-61. Valančiūnas started for the home side and contributed seven points and a big 11 rebounds.
On Thursday, the prospective Raptor put in 10 points to go with seven rebounds; the score line represented more of the same in the second match, with L. Rytas winning again, 77-73. This game was also noted as the debut performance of Renaldas Seibutis for the club; the former Olympiacos/Olin Edirne guard was good for seven points.
L. Rytas has gone 6-2 in the preseason thus far and takes on KK Buducnost of Montenegro in the Euroleague Qualifying Tournament first round on Thursday night.
Powered by

Sidelines
This post was published on September 24, 2011