June 6, 2013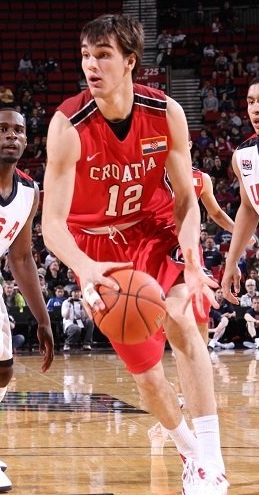 Episode #38 of the BallinEurope/heinnews co-produced "Taking the Charge" podcast series is now available online or via iTunes. Hein and yours truly zip through a roundup of rolling-on European league tournaments, including brief commentary on what's happening in the VTB United League, Germany, Turkey, and those French playoffs guaranteed to be giving Jordi Bertomeu nightmares already…
Thereafter, Taking the Charge presents a chat with Dario Saric, a.k.a. The Next Big Thing Out of Croatia. Saric is surprisingly frank about his plans for the immediate future with regard to the NBA Draft and possibility continuing on with Cibona Zagreb. And by the way, yes, he expects his fully-loaded Team Croatia side to take the gold in the upcoming FIBA U19 World Championship – and honestly, BiE's gotta side with the wunderkind on this one.
Also joining the show this week is Matthew Tynan of the San Antonio Spurs-centric ESPN TrueHoop Network site 48 Minutes of Hell. Tynan weighs in on Tony Parker's awesomeness, Tim Duncan's legacy, Tiago Splitter's recent emergence as a key factor in San Antonio's success and the bittersweet difficulty of having to interview Gregg Popovich. Tynan offers us his own Official Fearless Prediction for the NBA Finals, as does Hein himself – and BiE must say that both are surprising, really.
Finally, the movie of the week is a gem of a basketball-centric romantic comedy from the 1990s, Forget Paris. This one was directed, written and co-produced by that no. 1 Los Angeles Clippers fan Billy Crystal in an apparent attempt to get the sports-obsessed guys out there to check out what might be otherwise considered a "chick flick."
Check out the entire podcast here or to subscribe from this episode ad infinitum, enter http://heinnews.com/feed/taking-the-charge/ into iTunes or any podcast aggregator.
Powered by

Sidelines
This post was published on June 6, 2013