May 30, 2013
Episode #37 of the BallinEurope/heinnews co-produced "Taking the Charge" podcast series is now available online or via iTunes. After the usual patter on Euroleague rumors (especially this one) and VTB United League playoffs, the good stuff starts happening.
First up to guest on the show is Bayern Munich general manager Marko Pesic, who chats up heinnews on the seemingly overwhelming and undeniably impressive growth of the club since the beginning of this decade and its second-division Bundesliga standing. BiE continues to be fascinated with team's master plan built on little more than the club's football brand and um, well, that's it, really. The fact of the matter – call it a BallinEurope Official Fearless Prediction™ if you will – is that this team, barring unforeseen financial or personnel disaster, will be playing Euroleague ball within two seasons. Thus is Pesic good to hear from.
And the GM gives us insight into the truth to rumors that Bayern will make a run at signing Ratiopharm Ulm's John Bryant. Yeah, surrrrrrrrrrrrrrrrrrrrrrrrrrre.
Following Pesic is Jay Ramos, writer for the Miami Heat-centric SB Nation site Hot Hot Hoops. Ramos speaks to us about, well, the Miami Heat; more specifically, topics include mostly Lebron, more Lebron, Dwyane Wade, a tiny bit of Ray Allen and Shane Battier, Lebron, you get the idea. But can BiE put the fear of Tony Parker in Ramos? Tune in to find out – Ramos' own predictions for the NBA Eastern Conference Finals and NBA Championship outcome are also here, as are BallinEurope's.
Incidentally, when was the last time an NBA playoff series stood at 2-2 yet was so widely accepted to be a foregone conclusion…?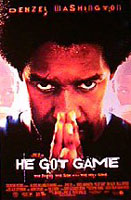 The Taking the Charge sports movie review of the week focuses on He Got Game, an unfairly under-seen film by New York Knicks ultrafan Spike Lee starring Denzel Washington and now-Heat former-Milwaukee Bucks/Boston Celtics sharpshooter Ray Allen. The short take: See this film. If you already have, watch it again. For many more reasons why, listen in…
Finally, also of note is our bumper music: Fantastic and rights-free material from Public Enemy, the Beastie Boys and DJ Danger Mouse – great stuff you may never have heard before.
Check out the entire podcast here or to subscribe from this episode ad infinitum, enter this into iTunes or any podcast aggregator: http://heinnews.com/feed/taking-the-charge/.
Powered by

Sidelines
This post was published on May 30, 2013