February 13, 2012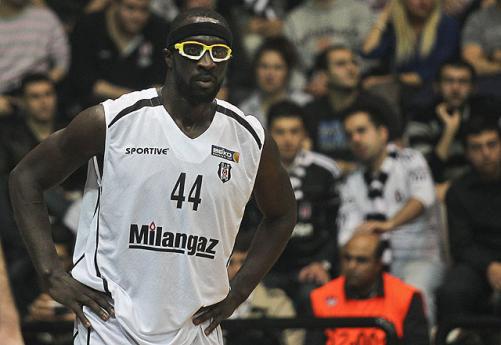 The Turkish Basketball League, rapidly becoming the most competitive European basketball league, saw a number of key games go down this weekend to tighten things up some at the top of the table. While TBL teams gained much international attention for signing big-name NBAers, e.g. Deron Williams, Sasha Vujacic, Ersan Ilyasova, Mehmet Okur, etc., during the NBA lockout period, BallinEurope reckons they should be more recognized for the excellent parity ruling over Turkish basketball. Might the reign of the twin Euroleague powers Anadolu Efes and Fenerbahçe Ülker be waning?
After the weekend's action, the top five on the TBL table stayed put, but a stunning upset handed to Fenerbahçe by last-place Bandirma Kirmizi locks the defending league champions in the fifth spot for at least a couple more weeks. Read on for brief writeups on key games, video clips and a look at the standings – just be sure to keep those scorecards at the ready as the league heads into the homestretch; you'll need 'em…
Beşiktaş Milangaz 79, Türk Telekom 74
Foreign imports Adam Morrison (22 points on 8-of-18 overall shooting) and Pops Mensah-Bonsu (17 points and 15 rebounds including nine ORs) led the way for the Eagles, who never trailed after a few minutes in the first quarter.
Galatasaray Medical Park 75, Pınar Karşıyaka 67
Perhaps still geeked by a win which local media has called "one of the biggest victories in Turkish basketball history," i.e. the Euroleague win over CSKA Moscow last week, Galatasaray was hardly at its most dominant at FIBA Eurochallenge side Pınar Karşıyaka. The EL Top 16 team managed to overcome a 12-rebound deficit (!) for the win nevertheless, helped by Pınar's 6-of-22 shooting from beyond the arc.
Anadolu Efes 81, Olin Edirne 57
First-place Anadolu made short work of Olin Edirne as 11 players – i.e. everyone who saw court time – scored for the table-toppers. Playing without Vujacic and Ermal Kuqo, Tarance Kinsey, Cenk Aysol, and Dusko Savanovic each went for double-figures and contributed a combined 15 rebounds; but it was Esteban Batista who starred, with his season-high of 20 points plus 11 rebounds in under 30 minutes.
Bandirma Kırmızı 77, Fenerbahçe Ülker 71
(Hurriyet Daily News) – Bandırma Kırmızı got only its second win in the Beko Basketball League, gaining a major upset win over defending champion Fenerbahçe Ülker on February 11.
The Minnows, who are sitting on the bottom of the Turkish Basketball League standings, beat Fenerbahçe Ülker 77-71 to claim one of the biggest surprises to happen this season.
Paul Miller and İbrahim Yıldırım both scored 19 points to lead Bandırma, while James Gist led Fenerbahçe, who suffered a Euroleague defeat at Panathinaikos last week, with 17 points.
Formerly a feeder club, Bandırma Kırmızı cut its ties with Banvit after it was promoted to the top-flight and is competing mostly with young players.
"We are not thinking about relegation or something else. Our main target is playing good basketball," coach Selçuk Ernak said. "What matters most is our young players' future. We will continue to aim playing well in the future."
Banvit 78, Hecettepe Üniversity 73
Turkey's sole Eurocup side managed to hold off Hecettepe and thus onto its no. 4 spot on the TBL table. Americans Keith Simmons and recent addition Kalin Lucas were tops for the visitors with 17 and 14 points, respectively, as Banvit could not find the handle on the outside shot at 6-of-21 shooting there. Banvit will be hosting Anadolu Efes this coming weekend.
The TBL's top 10 – the first eight teams place in the year-ending league tournament – are as follows. Though the American system of listing standings would have Galatasaray at no. 2, a half-game up on Beşiktaş and with a one-game advantage over Banvit, traditional European systems award one "point" per loss, thus positioning the Eagles as runners-up at present.
1. Anadolu Efes 16-2
2. Beşiktaş Milangaz 14-4
3. Galatasaray 14-3
4. Banvit 13-4
5. Fenerbahçe Ülker 12-6
6 (tie). Pinar Karşiyaka 10-8
6 (tie). Tofaş 10-8
8 (tie). Erdemir 9-9
8 (tie). Aliağa Petkim 9-9
10. Turk Telekom 8-10
TBL games to watch out for this weekend, then: Anadolu Efes at Banvit; Pinar visiting Turk Telekom; and the marquee matchup of Beşiktaş at Fenerbahçe Ülker.
Powered by

Sidelines
This post was published on February 13, 2012