July 12, 2012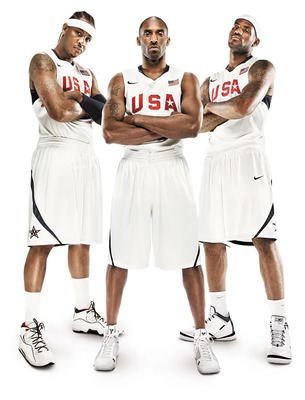 This one goes out by request to BallinEurope's Lithuanian agent Y. … with Team USA coming together to play the Dominican Republic today – with or without Chris Paul – BiE tries to answer the question "Who [if anyone] can beat Team USA?"
Good one.
A few gauntlets have been thrown by the Americans already, the least of which is certainly not the roster itself. That roster, one more time, is the following.
Carmelo Anthony (New York Knicks)
Kobe Bryant (Los Angeles Lakers)
Tyson Chandler (Dallas Mavericks)
Kevin Durant (Oklahoma City Thunder)
Blake Griffin (Los Angeles Clippers)
James Harden (Oklahoma City Thunder)
Andre Iguodala (Philadelphia 76ers)
LeBron James (Miami Heat)
Kevin Love (Minnesota Timberwolves)
Chris Paul (Los Angeles Clippers)
Russell Westbrook (Oklahoma City Thunder)
Deron Williams (Beşiktaş JK/Brooklyn Nets)
Said James: "Our speed is one of the best [among the Olympic teams], and also how dynamic some of the lineups can be, [guys] being able to play a lot of positions … [Kevin Durant] can play 2-5 if he has to, I can play 1-5 if I have to. Iguodala can do it as well and Melo can play multiple positions and the list goes on, so it should be fun. … If Coach K wants to get freaky or unique with the lineups, he has the ability to do that."
Said Team USA head coach Mike Krzyzewski: "It's a more versatile team than 2008." – when the Red-White-and-Blues ran the table at 8-0 in 14 days with hardly a serious challenge, mind you. "Although we don't have the center, that team didn't have Durant or Westbrook. So it's a different team, and we'll see if it becomes better, but it can be. It could be."
Says BiE: That's pretty much it, in a nutshell. What will it take to take out Team USA? Speed and length and the ability to draw fouls on Blake Griffin probably, Tyson Chandler definitely. And above-average shooting will definitely help.
If any weak links exist on this side, one might maybe just possibly have to concede Griffin and Chandler. In contrast to his play in transition, the Dunkmaster's post game remains predictable pre-therapy with Coach K and his free-throw shooting remains abysmal: just over 52% in 2011-12. How to slow down a Team USA that wants to fly? Hack-a-Blake!
Chandler certainly isn't a bad choice for center, if you're not going with Dwight Howard or Andrew Bynum, but sheesh, he's the only true center on this side. Now the same argument might've been made about the 2008 edition of Team USA, but even ardent Chandler backers can admit that Howard to their guy is a bit of a comedown. Then again, as Krzyzewski reminds, Durant's aboard, so just slide LeBron into the 4 spot. Or the 5 if Love's not in the game.
As always, the difference-maker for the US' opposition will be about drawing out the big men from underneath. While bringing little to the center position paradoxically helps neutralize this concern for Team USA – if Anthony is playing at power forward, for example, what other no. 4 in the world has such range? – this would have to be the sole strategic chink in the red, white and blue armor.
In short, BiE counts three Olympic teams that have the theoretical tools to take down the yankees: Russia, Spain and Brazil. However, if correct, this supposition would indicate a 5-0 run to start the 'Games and some nice momentum for the knockout stage, as all three would-be upsetters are in Group B. In fact, ultimately no proper way to judge the correctness of the claim will ever be had, since Team USA could play a maximum of two of the three – incidentally, further increasing the USA's chances of extending its 18-0 international run right through to the podium.
Within Group A, BiE supposes challenges could come from Lithuania, Argentina and France. On paper, the former two are outclassed by Team USA; Team Lithuania appears to be in a baton-passing phase with old-guard guys like Sarunas Jasikevicius and Robertas Javtokas handing over the reins to Jonas Valanciunas, Donatas Motiejunas (someday soon, hopefully) and their ilk. Linas Kleiza has been performing excellently in friendlies, but Jonas Maciulis' injury brought bad news to a team not exactly deep in the 3 spot.
As for Argentia, BiE'll simply say that one should never underestimate a team with Manu Ginobili.
Team France brought their best team ever to the Eurobasket 2011 tournament and proved worthy of its second-place finish. Perhaps BiE is overestimating the importance of Joakim Noah to Les Bleus' success, but damn does the Bull's absence appear to create a huge hole in the French rebounding game. BiE hasn't seen the critically important Tony Parker play since recovering from the notorious eye injury he recently suffered, but can't believe he'll be at 100% in this tourney. And France needs Parker at 100% against the USA – look what happened when, healthy, Tony managed just 26-of-68 (38.2%) overall shooting in those final four NBA games against 25% of Team USA.
So BiE's assuming a 5-0 start for Team USA. Among the contenders in the group stage…
For Team Russia, Andrei Kirilenko has the potential to be a one-man distraction to the likes of Anthony or Griffin in drawing the big men, leaving opportunities for Timofey Mozgov and Sasha Kaun. The question would then become one of backcourt play: To wit, can Alexei Shved, Anton Ponkrashov and Vitaliy Fridzhon stop a frontcourt driven by guys who can beat most isos thrown at them (D-Will, Westbrook) and the playmaker with perhaps the best court vision in the tourney (Chris Paul)?
Without Ricky Rubio, Team Spain still boasts a backcourt rife with experience and talent, with Jose Calderon, Fernando San Emeterio, Victor Sada, Sergio Llull, Rafa Martinez and "La Bomba" Juan Carlos Navarro among the ranks. And while these six in particular (as well as the entire team in general) enjoy the advantages earned in playing together so long, here's a possible key stat for Los Rojos to consider heading into the Olympics: Age. No wonder Sergio Scariolo eschewed the naturalized Nikola Mirotic for a sixth guard: BiE figures Spain's backcourt rotations will be deep and its substitutions frequent.
The other reason Mirotic couldn't crack this roster? A frankly amazing frontcourt loaded with NBA all-stars in Pau Gasol, Marc Gasol and block machine Serge Ibaka, plus ACB studs Victor Claver and Felipe Reyes. Like all other podium hopefuls, Team USA will have to fight for boards against Los Rojos.
But BiE doesn't believe this side has the speed of recent Europe-dominating Teams Spain; Rubio's absence hurts here, and Mirotic might've helped marginally as well. Can the top-scoring team of Eurobasket 2011 force Team USA into a half-court game? Can Scariolo confound Coach K? These are big wait-and-sees.
Finally, there's Team Brazil or, as BiE's thinking of them, the X factor. It's clear that the Brazilians are among the cream of the Group B crop, but just what might this team be capable of? BiE caught the final game of the Torneio Eletrobase de Basquete tournament against Greece and was impressed by – echoes of the USA – the versatility and athleticism Brazil brings. (Further echoes! Said Leandro Barbosa in assessing his roster: "It's a very strong selection which has a bit of everything in every position.")
Tiago Splitter and Anderson Varejao are again demonstrating, for lack of a better description, classic European-style big man offense of enviable range plus aggressive NBA-like physicality that both break out in these tournaments while showing such sporadically in the big league. In the Greece game, Splitter and Varejao provided brilliant distraction that wreaked havoc with Greek zone Ds as they opened up jumpshot after jumpshot for Marcelo Magalhaes and Marquinhos Vieira.
And BiE hasn't even mentioned Nene and Marcelinho Huertas … nice roster here.
Whatever happens to Brazil before/if they meet Team USA in the tournament, it'll certainly be interesting. One thing is for certain, however: No Olympic team can play the Americans' own game like these guys – not France, not Russia and not even Spain. The question of course is whether they can *beat* the US at that game. They did come close in 2010…
Powered by

Sidelines
This post was published on July 12, 2012