December 24, 2011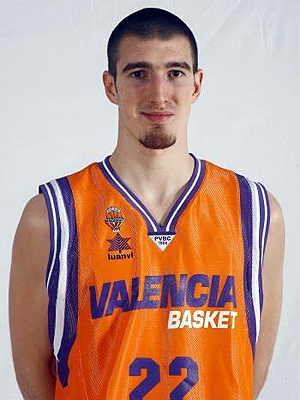 Hey, look, it's a Christmas card from Nando de Colo via BallinEurope's man in Italy, Enrico Cellini! Enjoy and happy holidays!
With few seconds on the clock, French combo guard Nando "Aladdin" de Colo is the man that Valencia fans want to see handling the ball. Check out the acrobatic fashion by which he knocked down a half-court shot against Bilbao Basket just two weeks ago (too bad it didn't count).
With Christmas coming, though, the San Antonio Spurs' 2009 second-round draft pick may not be the man you want to get some wishes from. Here is the best Merry Christmas-idea he came up with, a video of himself bossing a kid (probably a conniving family member in real life) disguised as Santa Claus. If you are brave enough to watch to 2:50, you'll even get some juicy behind-the-scenes material…
(Soundtrack by Peggy Lee and Twisted Sister.)
Enrico Cellini is lifelong basketball fanatic and a long-time sportswriter with a focus on Italy and Spain. He was born among European hoops, was raised watching the NBA, and thinks choosing between American and European basketball is like choosing between one's mother and father. You can follow him on Twitter or check out his Italian-language blog Hoop Addicted.
Powered by

Sidelines
This post was published on December 24, 2011