April 10, 2012
In the leadup to the 2011-12 Eurocup Final Four tournament beginning on Saturday, Eurosport Turkey basketball commentator Uygar Karaca contributes a series of previews on the remaining quartet entitled "Four Teams, Four Stories" to BallinEurope. Today, Karaca takes a look at Valencia BC.
Of course, we have to mention brilliant coaches like Luis Casimiro, Paco Olmos and Fotis Katsikaris when we talk about Valencia. However, it is very obvious that some ex-Yugoslavian coaches will always have a special place in the hearts of Valencians.
The story is obvious and known by almost everyone: In 1995, brothers Fernando and Juan Roig bought the club and brought in a Bosnian coach who had already gained hero status in Valencia. It was Viki Vukovic who made the Dorna Godella women's team a two-time European champion. Vukovic would go on to lead Pamesa, as the team was called in those days, to the Spanish Cup title in 1998.
It was Neven Spahija who gave the city of Valencia its second European title in men's basketball: the newly named Eurocup.
It was Svetislav Pesic, who came last year after Manolo Hussein, again made the team viable with limited financial resources to make the 2010-11 Euroleague quarterfinals.
Now it is Velimir Perasovic, who came after Olmos (the first coach to make Valencia a European champion, back in the 2003 ULEB Cup), guiding the team to a safe spot in the Liga Endesa playoff race, along with entrance into the Eurocup Final Four.
When Perasovic arrived, the Oranges were having big problems in Eurocup, with eight wins in 17 matches in hand. And between December and January, the team barely won a match. Now, the ambition of Perasovic will be to get Valencia its second Eurocup title in three years; if he does, it will in fact mark his first personal European crown. It has not been easy to turn things right but the Croatian coach learned how to cope with financial constraints from the days when he made Cibona a Croatian champion.
Perasovic knows Spain as well, from his memories as a Taugres player as well as his coaching days with Tau Ceramica; he's also experienced pressure and criticism in Turkey as the coach of Anadolu Efes.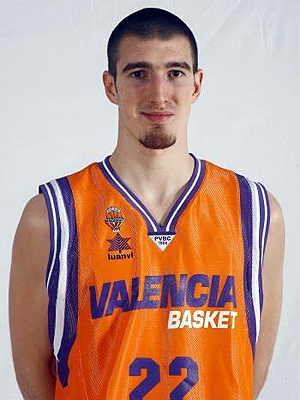 Valencia has played the 2011-12 season with a relatively moderately talented squad as compared to last year, but experience matters. Rafa Martinez, a newcomer to the club's three-point record, is the big brother and the leader. Nando de Colo is the superstar. Yes, at one point – when things were awful – the Valencia roster included Tiago Splitter, but their player of the year is undoubtedly Nick Caner-Medley at the power forward position. Victor Claver shares the leadership load with Martinez and along with De Colo, Martinez, Florent Pietrus and Sergei Lischuk, he knows what is takes to be a European champion as a Valencian.
This time, there is no Thomas Kelati, no Kosta Perovic, no Matt Nielsen, no Marko Marinovic. Victor Faverani, along with Claver, was sidelined for the long term but finally both are healthy, at least for a while. The Brazilian '88-born player had a good impact at center and has found great form again recently. Not to forget A.J. Ogilvy of course: He can be thought of along the same lines as Matt Nielsen; the former has the same aggressiveness but takes less responsibility in the offense.
Stefan Markovic and Rodrigo San Miguel are great distributors and their personal performance especially on defense is crucial. It will be interesting for Valencia because they are fairly good as a scoring team and the others know one another from the VTB United League and know how to play a low-scoring, slowed-down game with effective zone defenses.
Valencia did not lose a single game in the Last 16 stage of Eurocup. The only team that had the potential to beat them in the group was Gravelines Dunkerque, but the French side was just out of form. Since February 12, Valencia has lost against three teams: FC Barcelona, Caja Laboral Baskonia – currently no. 1 and no. 3, respectively, in the Liga Endesa standings – and Buducnost, who had a brilliant season. Despite the great form Valencia has shown in 2012, they don't have the upper hand against Lietuvos Rytas in my opinion.
Powered by

Sidelines
This post was published on April 10, 2012